Termin: Exhibition August 23rd to September 3rd 2010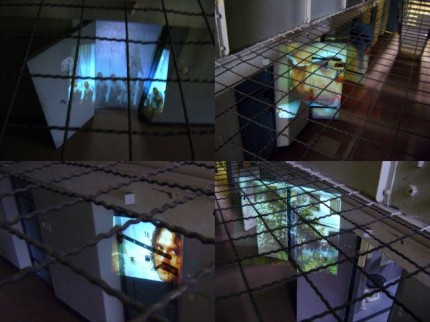 People behind bars – local heroes?
They have the courage to show a side of themselves that contradicts common prejudices and clichés. Lyrik-Clips! take us to their secret worlds; worlds in which the shadows of the past wander restlessly … or in which hopes and wishes dart by like flashes of lightning … or where one simply lies on a cloud and flies away … or the actors in their films are beamed into an outside reality … or a white sheet and a four-four time is the common denominator … or the question "Who am I" provides a daring look behind and through the mask … or the inmates dream themselves out of their cells … stories, songs, images pass in front of the conscious eye … time is immesurable … the thoughts wander … until the everyday sounds draw you back … back to the here and now … behind locked doors and barred windows.
Freedom as a vision, but one that requires patience, waiting, enduring …
Project leader: Kordula Lobeck de Fabris
Video installatioin: Tobias Daemgen
Opening hours:
Monday to Friday 08:30-16:00
Thursday 08:30- 18:

30