Termin: June 10th, 6.00 p.m.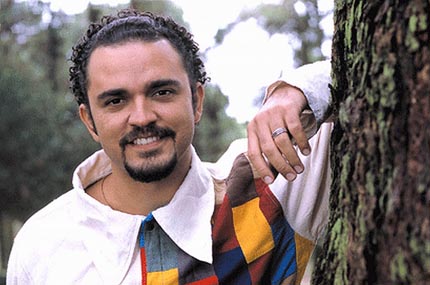 The music of Northern Brazil, the Música Nordestina, knows many different forms of expression, notably the Forró, which is a style of music and dance alike. It has its origins in the music of former slaves, the Italian accordion, French and Portugese quadrille dances, and the polkas of Eastern European immigrants.
Forró festivals are quite popular, the biggest one taking place at São João on June 21st, the Brazilian Midwinter's Day. Just as samba belongs to the Rio Carnival, this festival can't go without the forró trios with their typical instruments: zabumba (drums), sanfona (button accordion), and triangle. Five rhythms are subsumed under the term forró; these are, besides forró in the literal sense, baião, xaxado, the fast-paced arrasta-pé, and xote, which is played with a slight shuffle feel.
The singer and musician Valdir dos Santos Perreira comes from Caruaru in the Brazilian state of Pernambuco. He practically sucked in music with his mother's milk, his father being an enthusiast for forró and his mother an accordion player and him being born on a Saturday, which in his homeland is a traditional dancing day!
Until his 15th birthday he lived in the neighbourhood of São Francisco, best known for the seething Rua Preta (Black Road), where he got to know and appreciate the typical music of Caruraru. His parents encouraged him to study music. By now he published several CDs and divides his time between performing at concerts and volunteering at P.I.M., a project that aims at familiarizing teenagers with the traditions of Brazilian folk music.
Valdir Santos: vocals, guitar
José "Berinho" da Costa: sanfona (accordion)
Wagner Santos: zabumba, pandeiro
Ivison Santos: percussion