Termin: July 15th, 6 p.m., Thomaskirche, Opphoferstraße 60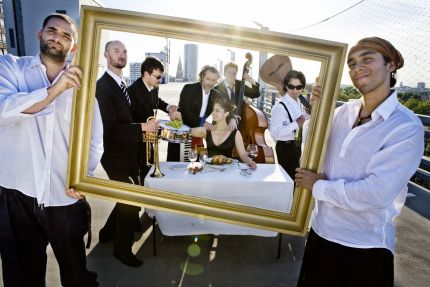 "Chupacabras" – a Band that polarizes. The mix of flamenco, mariachi and reggae is what makes their music so special and, above all, danceable. The seven musicians come from different parts of the world: from Mexico, Peru, Spain, Greece, and Germany. Each one contributes to the band particular musical influences of their own. They play with zest and joy, like to be inspired and enthusiastically absorb new influences. A mix of Latino-Hispanic popular music and Western styles makes their sound merry and spirited. Their compositions, presented with Spanish vocals, are utterly catchy and resist categorization. The lyrics deal with sociocritical themes like injustice and poverty, but also with personal things like love and life. The audience is invited to an eventful musical journey to Latin America.
Richard Guerra Medina: rap, guitar
Miguel Igler: rap
Josué Avalos: vocals, guitar
Pia Miranda: vocals, trombone
Markus Koch: trumpet
Matthias Kuhlgatz: keyboards
Sven Ostrowski: bass
Benedikt Hesse: drums
In case of rain, the concert takes place in the great hall of the Nachbarschaftsheim.