Termin: February 18th, 6.00 p.m.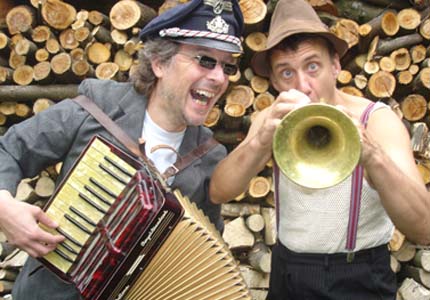 Furiosef — that's the two musicians Manfred Heinen and Markus Türk. They first met at the academy of music in Arnheim and since the early 1990s have been performing together in various projects and ensembles. As a jazz duo, somewhere along the way they got the idea of not only playing American standards, but instead adapting the song lore of their own culture, i.e. German folk and children's songs which they grew up with; to re-write them and base their improvisations on them.
This was the beginning of the duo Furiosef, and since the two musicians both are jovial Rheinlanders slightly disposed to the bizarre, Furiosef became a musical cabaret that at its concerts and festivals proves as amusing as musically convincing. With a good deal of irony, the two musicians go back to their roots. What in the beginning seems to be a melancholy jazz ballad turns out to be an impressive metamorphosis of "Es waren zwei Königskinder".
Among the highlights of this folkloristic jazz duo's musical career are, besides the Düsseldorf Jazz Ralley and the International Jazz Festival at Viersen, the biggest German folk festival at Rudolstadt and "transVocale" at Frankfurt/Oder. Twice, the duo was nominated for the German Folk Award.
Markus Türk:trumpet, trombone, didgeridoo etc.
Manfred Heinen: piano, accordion, kazoo, vocals